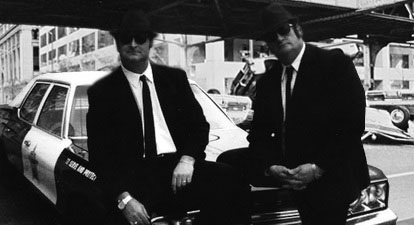 The Blus Bros. are a Great White North tribute to the original Blues Brothers, founded in 1978 by John Belushi and Dan Aykroyd, on Saturday Night Live, and later in the 1980 musical comedy film of the same name.  Blood brothers Stan and Bob Hammond hail from Ontario, Canada, but their hearts are steeped in the tradition of old Chicago, and the tale of Jake and Elwood Blues.
Stan (aka Jake), touted as a ringer for Belushi all of his life, was the inspiration for these boys to set out on their own 'mission from God', and to spread the joy via their own enthusiasm for rhythm and blues.
Bob's (aka Elwood) passion for the genre was ignited after taking vocal lessons and studing harmonica. This resulted in numerous guest performances, as well as fronting his own band, "Big" Bob Hammond & The Mississauga Delta Blues Band, performing traditional works by the greats, such as Jimmy Reed, Howlin Wolf, Big Joe Turner, and T-Bone Walker to name a few.
These two natural brothers travel the countryside in their 74 Dodge Monaco 440, 4 barrel, with cop tires, cop brakes, cop suspension, and it 'runs good on regular' gas.  They've wowed and entertained at such venues as the Southside Shuffle, Port Credit, Orangeville Blues Festival, Wasaga Beach Jazz and Blues Festival, Wheels On Danforth, Couters, at Murrels Inlet S.C, Sea Captains, Myrtle Beach, and House of Blues, South Carolina.  They are regularly sited at charity events, golf tournaments, weddings, private functions, and chauffeuring enthusiastic fans in their genuine ex RCMP vehicle.
Whether entertaining the masses with choruses of Sweet Home Chicago, or engaged in fan photo ops along side their sweet ride, these two boys are happy to share their time, their talent, and their infectious enthusiasm for all things Blues.  While the day may come when they decide to hang up their fedoras and fold away the shades, until then, the Hammond Blus Bros. will keep on Rollin, Rollin, Rollin, because…You Ain't Seen Nothin Yet!